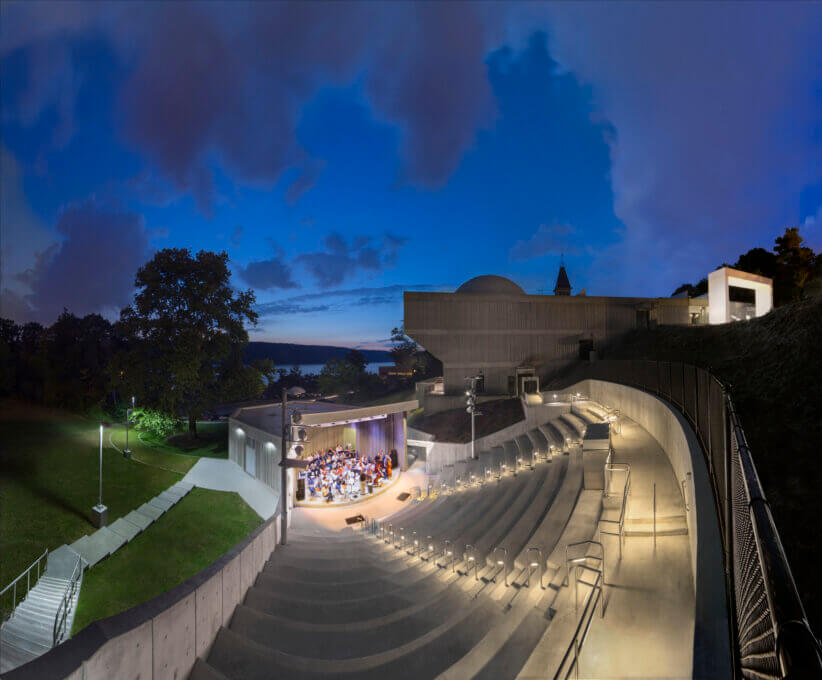 2023 Summer Amphitheater Series at the Hudson River Museum
We are so excited for all of the opportunities to enjoy live music this summer in Westchester, especially with so many free concerts! One series you need to get on your radar is the Hudson River Museum's Summer Amphitheater Series.
Taking place on Friday and Saturday evenings from July 7th–August 12th, the series features a range of bands and genres such tango, jazz, soul, Latin Fusion, drama, magic, and even a falconer showing off birds of prey.
In addition to the stellar line-up, families can enjoy incredible views of the Hudson River and Palisades with no reservations required. All performances start at 8:00pm and seating is on a first-come, first-serve basis.
Check out the complete summer amphitheater line-up below:
Friday, July 7th
Symphonic Tango – The Yonkers Philharmonic featuring the Pedro Giraudo Tango Quartet
Join Yonkers Philharmonic and the Pedro Giraudo Tango Quartet for a fun collaboration, showcasing the musical evolution of tango, from its roots to a contemporary sound.
Saturday, July 8th
Thunderbird American Indian Dancers
Enjoy a performance from the Thunderbird American Indian Dancers. They will perform a variety of  dances from different tribes as they highlight their origins, purpose, and regalia! Audience participation is involved with this performance.
Friday, July 14th
Skyhunters in Flight
Watch as falconer Brian Bradley demonstrates the magic of the birds of prey as they fly above you. This includes a look at owls, hawks, and falcons as well as a better understanding of their role in the environment.
Saturday, July 15th
Phoenix Theatre Ensemble Presents Honduras
Enjoy a live performance of Honduras, a solo piece written by Sara Farrington. Starring Valeria A. Avina, the piece is based on true events, highlighting the stories of Honduran mothers and children who crossed the border seeking asylum in the summer of 2018.
Friday, July 21st
Lost Soul Found 
Enjoy a live performance from Lost Soul Found, an 11-piece band that plays the music of Earth Wind & Fire, the Ohio Players, Michael Jackson, Stevie Wonder, James Brown, Aretha Franklin, Santana, Tower of Power, and other Funk, Soul, and R&B artists of the '60s and '70s.
Saturday, July 22nd
Gamelan Dharma Swara
Enjoy a performance featuring Gamelan Dharma Swara, a collection of musicians, dancers, and composers who showcase Balinese performing arts across a wide range of traditional and contemporary repertoire.
Friday, July 28th
Brass Queens 
Enjoy music inspired by New Orleans mixed with the flair of modern pop from Brass Queens. This nine-piece brass band features an all-female horn section with the goal of expanding the space for women in a male-dominated industry.
Saturday, July 29th
Afro Dominicano
Enjoy live music from Afro Dominicano, a Latin Fusion indie band of the Alternative Latin Music diaspora playing what they call "Afro Caribbean soul music," a blending of traditional folkloric roots music from the Dominican Republic with Afro-beats, reggae, calypso, samba, Funk, Punk rock and other Caribbean rhythms.
Friday, August 4th
Library Jazz Band
Library Jazz Band is a a collective of music professionals and educators from Westchester who will perform everything from Stevie Wonder's Innervisions album
Saturday, August 5th
Afro-Peruvian Ensemble 
Families will enjoy he sounds of the Peruvian coast with a contemporary treatment rooted in the rich Afro-Peruvian tradition. Directed by drummer Hector Morales, the Afro-Peruvian Ensemble includes former Peru Negro singer/dancer Mariela Valencia; legendary percussionists Freddy "Huevito" Lobaton and Hector Ferreyra; innovative guitar player Eric Kurimski; along with the extraordinary talents of Ali Bello (Venezuela) on violin and Grammy Awarded Pedro Giraudo (Argentina) on the bass.
Friday, August 11th
AM Gold Yacht Rock Party 
Enjoy live music from AM Gold Yacht Rock Party, a tribute band who performs songs from the late 1970's through the mid 1980's. Featured artists include Hall & Oates, Steely Dan, Huey Lewis, Christopher Cross, Lionel Richie and so many more!
Saturday, August 12th
An Evening of Magic and Mentalism with Andy Gersh
Prepare to be mesmerized with Andy Gersh's  brand of magic and mentalism.
Feel Good Fridays at the Hudson River Museum
In addition to the concert series, families can enjoy Feel Good Fridays with free general admission to the Museum Fridays in July & August from 5-7pm. Experience the exhibitions currently on view, grab a drink at the cash bar, enjoy the outdoor courtyard with games for all ages, and catch their planetarium show at 6pm (ticketed experience).
Hudson River Museum Details
511 Warburton Ave
Yonkers, NY 10701